The Ford F150 Tremor is a powerful and sporty off-road variant of the popular Ford F150 truck. It offers a combination of rugged design, advanced technology, and impressive performance to enhance the off-road driving experience.
With its enhanced suspension, specialized tires, and high-performance engine, the Tremor is built to handle rough terrains with confidence. Whether you're tackling rocky trails or navigating through muddy paths, the Ford F150 Tremor is designed to deliver a thrilling and capable off-road adventure.
This truck is a great choice for outdoor enthusiasts and individuals who require a robust vehicle that can handle demanding off-road conditions.
Introducing The Ford F150 Tremor: Unleashing Dominance
The Ford F150 Tremor is a powerful and dominant truck that is designed to take on any challenge. With its cutting-edge technology and advanced features, the Tremor offers an unmatched driving experience. Whether you are tackling off-road terrain or cruising on the highway, this truck delivers unparalleled performance.
The Tremor is equipped with a high-performance engine that delivers raw power and acceleration. Its off-road capabilities make it the perfect choice for adventure seekers. With features like off-road suspension, all-terrain tires, and skid plates, the Tremor can handle the toughest terrains with ease.
In addition to its exceptional performance, the Tremor also offers a range of modern and innovative technologies. From its advanced infotainment system to its driver-assist features, this truck is designed to keep you connected and safe on the road.
On the outside, the Tremor sport a sleek design with aggressive styling cues. Its bold grille, muscular body lines, and distinctive accents make it stand out from the crowd.
Dominance On The Road: Unleashing Performance
The Ford F150 Tremor is a pickup truck designed for those who crave power, performance, and capability. With its range of powerful engine options, this truck offers the perfect blend of strength and efficiency. Whether it's the 3.5L EcoBoost® V6 engine or the High-Output 3.5L EcoBoost® engine, the Tremor delivers the sheer force you need on the road.
But the Tremor is not just about power – it also offers excellent towing and payload capabilities. With its impressive towing capacity and payload rating, this truck can handle any task with ease. Whether you're towing a boat for a weekend getaway or hauling heavy equipment for work, the Tremor has got you covered.
What sets the Tremor apart from the competition are its performance-enhancing features and upgrades. From the 10-speed automatic transmission to the Tremor Off-Road Package, every detail has been designed to enhance your driving experience and elevate your performance.
Conquering The Off-road: Unleashing Adventure
The Ford F150 Tremor is a powerful truck designed for those who seek thrilling off-road experiences. With its best-in-class off-road abilities, it is a force to be reckoned with on any terrain. The Tremor is equipped with advanced off-road technology and features that elevate its performance and handling. From the enhanced suspension system to the robust four-wheel drive, every aspect of this truck is tailored for off-road adventures. Its rugged design not only exudes a sense of capability but also enhances its durability. The Tremor is built to withstand the toughest challenges, allowing drivers to explore uncharted territories with confidence. Whether you are traversing rocky terrains or conquering muddy trails, the Ford F150 Tremor is ready to take you on an exhilarating off-road journey.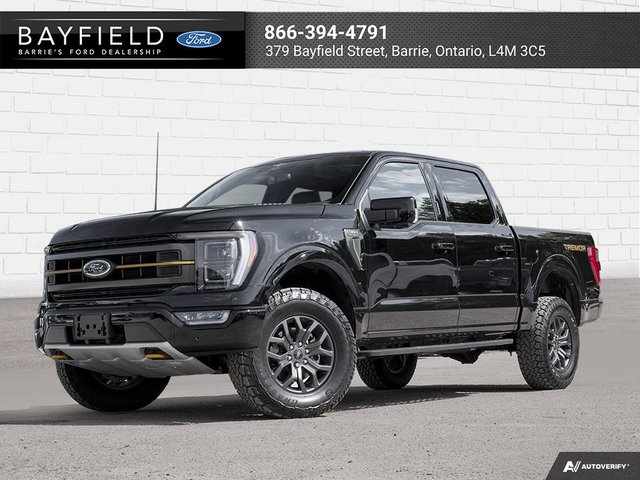 Credit: www.bayfieldford.com
Unparalleled Comfort And Connectivity: Unleashing Convenience
The Ford F150 Tremor offers unparalleled comfort and connectivity, delivering a level of convenience that can't be beat. Its spacious and comfortable interior ensures a relaxing drive, whether you're going on a long road trip or simply running errands around town. The state-of-the-art technology and infotainment systems make it easy to stay connected and entertained while on the go, with features like touchscreen displays, voice command capabilities, and smartphone integration. Additionally, the F150 Tremor is equipped with advanced safety features and driver-assist technologies, providing peace of mind on every journey. With features like blind spot monitoring, lane keeping assist, and adaptive cruise control, you can feel confident and secure behind the wheel. Experience the unmatched comfort and convenience of the Ford F150 Tremor.
Conclusion
To sum it up, the Ford F150 Tremor is a true powerhouse of a truck. With its impressive off-road capabilities, muscular design, and advanced technology features, it is sure to turn heads and deliver an exhilarating driving experience. Whether you're tackling rugged trails or cruising through city streets, the Tremor is built to handle it all.
Get behind the wheel of this beast and feel the thrill for yourself.