The Honda Civic is a compact car known for its reliability and fuel efficiency. The Honda Civic is a compact car that has established a reputation for its dependability and excellent fuel economy.
With a sleek design and advanced features, the Civic offers a compelling package for those seeking a practical yet stylish vehicle. Honda has consistently delivered on its promise of quality, making the Civic a popular choice among car buyers around the world.
Whether you're a daily commuter or a weekend road-tripper, the Civic's comfortable interior, smooth handling, and impressive safety ratings ensure an enjoyable driving experience. Additionally, the Civic comes in various trim levels, allowing drivers to choose the features and options that best fit their needs and preferences. Overall, the Honda Civic remains a top contender in its class for its well-rounded performance and value for money.
A Brief History Of The Honda Civic
The Honda Civic, introduced in 1972, has become one of the most popular and iconic cars worldwide. Its early beginnings can be traced back to a time when Honda aimed to create a fuel-efficient and affordable vehicle that would cater to the needs of everyday drivers.
Over the years, the Honda Civic has evolved and undergone several transformations, adapting to the changing automotive landscape and consumer demands. Through constant innovation and improvements, the Civic has solidified its reputation for reliability, performance, and efficiency.
Evolution of the Honda Civic
The first-generation Civic, released in 1972, featured a compact design and low fuel consumption.
In the 1980s, the Civic underwent a redesign, incorporating more advanced technology and improved aerodynamics.
In the 1990s, the Civic introduced models with enhanced safety features and increased interior space.
In the early 2000s, the Civic embraced hybrid technology, offering consumers a more environmentally friendly option.
Recent iterations of the Civic have focused on performance and cutting-edge technology, including advanced driver-assistance systems and connectivity features.
Throughout its history, the Honda Civic has consistently delivered on its promise of providing a reliable, fuel-efficient, and versatile car that caters to a wide range of drivers. With each generation, the Civic continues to set the benchmark for compact cars, embodying Honda's commitment to excellence and innovation.
Performance And Engine Options
The Honda Civic is renowned for its performance and engine options. With several variants available, the Civic offers a range of choices to suit different drivers' preferences.
Unleashing the power, the Honda Civic provides a selection of engine options that cater to various driving styles. The Civic Si variant is specifically designed for those seeking a sporty driving experience. It boasts a turbocharged engine delivering exhilarating performance. On the other hand, the Civic Type R variant is a high-performance model, engineered to provide exceptional power on the road.
In addition to its impressive performance, the Honda Civic also excels when it comes to fuel efficiency and sustainability. With features such as Eco Assist and Idle Stop, the Civic helps optimize fuel consumption and reduce carbon emissions. These eco-friendly features make the Civic an ideal choice for environmentally conscious drivers.
Whether you prioritize power and performance or seek an eco-friendly option, the Honda Civic offers a wide range of engine options to suit your needs. Experience the thrill of driving a Civic today!
Honda Civic Design And Technology
The Honda Civic is a popular choice among car enthusiasts for its design and technology. With its sleek and stylish exterior, the Honda Civic catches the eye wherever it goes. The smooth curves and aerodynamic shape not only contribute to its aesthetic appeal but also enhance its performance on the road.
Inside, the Honda Civic offers a comfortable and convenient experience for both the driver and passengers. The spacious interior is thoughtfully designed with high-quality materials and finishes, providing a luxurious feel. Features such as adjustable seating, ample storage space, and advanced climate control ensure a pleasant and hassle-free journey.
When it comes to technology, the Honda Civic is equipped with the latest innovations. From advanced safety features to cutting-edge infotainment systems, the Civic offers a range of intelligent technologies that enhance the driving experience. Features like a touchscreen display, smartphone integration, and voice command functionality provide convenience and connectivity on the go.
Sleek and stylish: Honda Civic exterior design
The smooth curves and aerodynamic shape enhance performance and aesthetic appeal.
Comfort and convenience: Interior features of the Honda Civic
Thoughtfully designed spacious interior with high-quality materials and finishes.
The latest tech innovations in the Honda Civic
Advanced safety features, cutting-edge infotainment systems, and connectivity options.
Safety Features Of The Honda Civic
The Honda Civic is well-known for its impressive safety features, making it an ideal choice for those who prioritize safety on the road.
One of the standout features of the Honda Civic is its advanced safety technologies, which include bold Forward Collision Warning, Collision Mitigation Braking System, and Lane Keeping Assist System. These features work together to alert the driver of potential collisions and help prevent them.
Not only does the Honda Civic have advanced safety technologies, but it also boasts exceptional crash test ratings. It has consistently received high scores in both National Highway Traffic Safety Administration (NHTSA) and Insurance Institute for Highway Safety (IIHS) crash tests.
In terms of reliability, the Honda Civic has a strong track record. It has been recognized for its reliability, making it a trusted choice for many consumers.
When comparing the Honda Civic to other cars in terms of safety, it stands out. Its advanced safety features and impressive crash test ratings set it apart from the competition.
Driving Experience And Handling
The Honda Civic offers a fantastic driving experience with its smooth ride and responsive handling. The suspension of the Civic is designed to absorb bumps and provide a comfortable ride, making it perfect for long drives or daily commutes. Additionally, the steering system of the Civic is precise and allows for effortless maneuverability, which is great for navigating city streets and tight parking spaces.
On the road, the Honda Civic delivers impressive performance, thanks to its powerful engine and well-tuned mechanics. The acceleration of the Civic is swift, providing quick bursts of speed when needed. Its braking system is also responsive, ensuring reliable stopping power. Whether you're merging onto the highway or navigating through traffic, the Civic delivers a confident performance.
| City Driving | Maneuverability |
| --- | --- |
| The Honda Civic excels in city driving scenarios. Its compact size and nimble handling make it easy to navigate crowded streets and parking lots. | The Civic's tight turning radius allows for smooth turns and effortless maneuverability, making it a breeze to navigate through busy city streets. |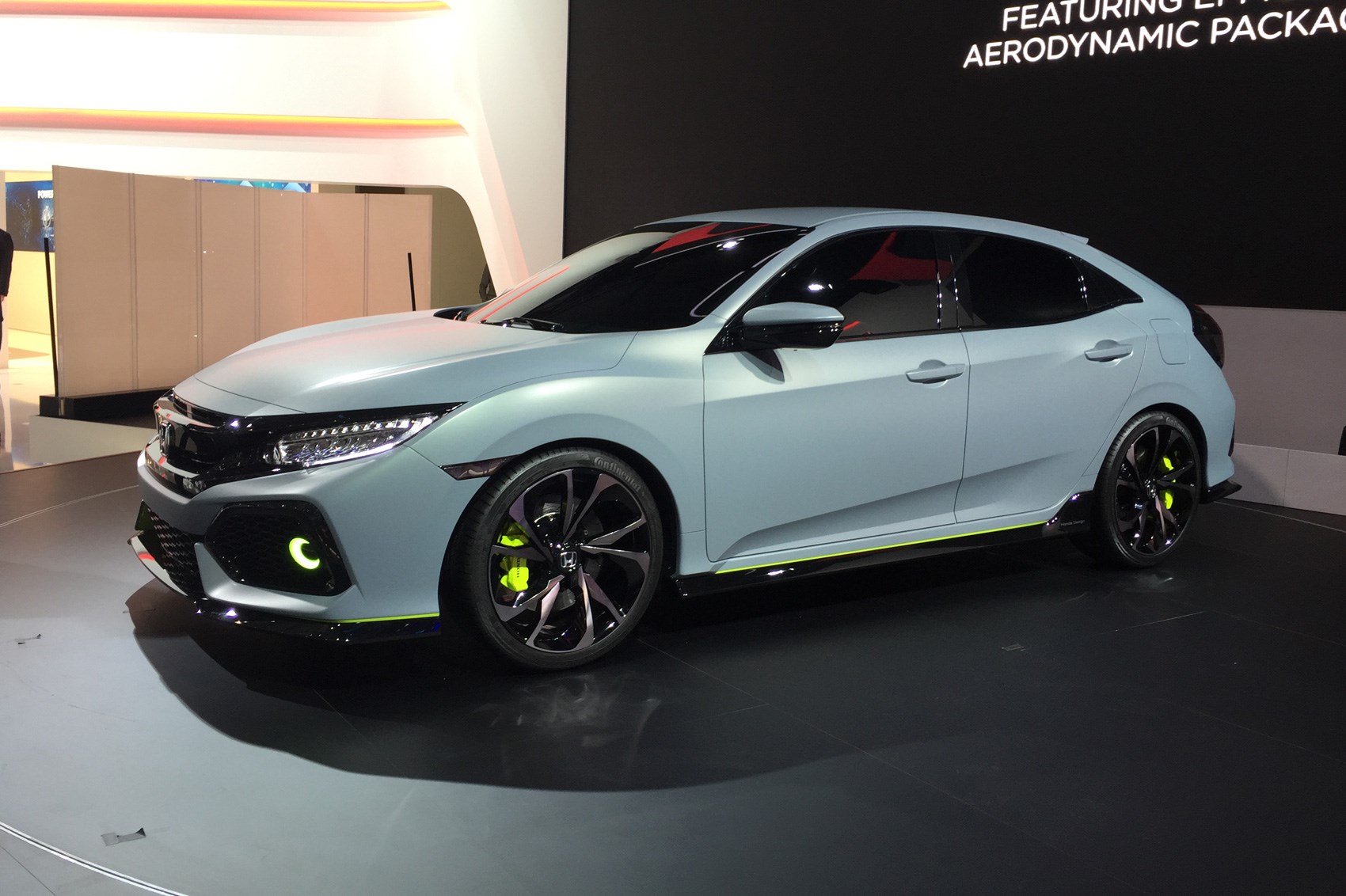 Credit: www.carmagazine.co.uk
Honda Civic Trim Levels And Packages
The Honda Civic offers a range of trim levels to suit different preferences and budgets. When choosing a Honda Civic model, you have options to consider in terms of standard features and available packages. Let's explore the various trim levels available for the Honda Civic:
Trim Level
Standard Features
Optional Packages
LX
• Honda Sensing® safety suite
• Multi-angle rearview camera
• Bluetooth® HandsFreeLink® and streaming audio
• Honda Sensing® suite upgrade
Sport
• 7-inch Display Audio touchscreen
• Apple CarPlay® and Android Auto™ integration
• Leather-wrapped steering wheel
• Sport pedals and black-painted side mirrors
EX
• Honda LaneWatch™
• One-touch power moonroof
• Remote engine start
• Honda Satellite-Linked Navigation System™
Touring
• Honda Satellite-Linked Navigation System™
• LED headlights with auto-on/off
• Heated front and outboard rear seats
No additional optional packages
With different trim levels and packages to choose from, it's important to carefully consider the features and options that best suit your needs. Whether you prioritize safety, technology, or luxury, there is a Honda Civic model that can cater to your preferences. Explore the various options available and find the perfect Honda Civic for you.
Cost And Ownership Experience
Pricing and value for money: Honda Civic's affordability
The Honda Civic is well-known for its affordability, making it an attractive option for many car buyers. The pricing of the Honda Civic is competitive compared to other vehicles in its segment, offering a great value for money. Its reasonable price tag doesn't compromise on quality, as it comes equipped with a range of features and advanced technology.
Cost of maintenance and repairs for the Honda Civic
When it comes to maintenance and repairs, the Honda Civic is known for its reliability and low-cost upkeep. The cost of routine maintenance, such as oil changes and tire rotations, is generally affordable, and the availability of genuine Honda parts makes repairs more cost-effective. Additionally, the Honda Civic has a reputation for excellent fuel efficiency, translating to lower fuel costs over time.
Customer reviews and satisfaction with the Honda Civic ownership experience
Owners of the Honda Civic often express high levels of satisfaction with their ownership experience. The car's reliability, fuel efficiency, and overall performance receive positive reviews from customers. The comfortable interior, intuitive infotainment system, and advanced safety features add to the overall satisfaction of Honda Civic owners.
Conclusion
To sum up, the Honda Civic is a popular car that excels in reliability, fuel efficiency, and practicality. With its sleek design, comfortable interior, and advanced safety features, it caters to various lifestyles. Whether you are a city dweller, a family-oriented individual, or a performance enthusiast, the Honda Civic offers something for everyone.
Its longstanding reputation, combined with its affordable price point, makes it a top choice in the compact car segment. Experience the Honda Civic and embrace its versatility on the road.